"Otrā māja" needs your support  – animal shelter needs reconstruction work.
The work requires a lot of money and needs a financial support.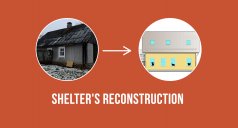 Let`s help create the shelter where animals are never euthanized, live in a good conditions enjoying their live.  Unfortunately, this shelter can't exist without the support of people and their kind donations.
Shelter is asking for support from everyone who cares about animals!